The last week and a half before Christmas was a BLUR! I barely had time to kiss my children hello before I was kissing them goodnight! (And, if I am honest, sometimes the goodnight kiss WAS the hello kiss!) But, I have been blissfully resting for the past 7 days after Christmas, taking a break from everything worthwhile, including blogging. And now I feel utterly useless, so it's time to come back. I thought I'd begin by sharing the rest of the Christmas books, in case anyone else hopes to do something with them next year. Then, come back later for some goal setting for the new year!
BOOK 10- The Polar Express
I am sure you have TONS of activities you already do with this story! My class used it as part of our retelling unit, to discuss beginning, middle, and end. After reading the story, we completed a train-themed story map, using pictures and sentences. Students showed beginning, middle, and end on their trains, as well as all the story parts we have discussed so far. (I had students draw pictures the first day, and the next day we wrote sentences using the words "First, Next, Then, and Last.")
I did not make the train on this worksheet. It was given to me by a teacher friend on PT years ago:
This is my first attempt at embedding a google doc. If anyone has a better way (I know there is one!) and you want to share, feel free to leave a comment below!
BOOK 11 - Christmas Makes Me Think
In this story, a young boy shares all of the fun things he thinks about at Christmas. But then, he starts to think about how it must be for those who DON'T have the fun times he has... the trees, animals, and homeless people. He thinks of ways he can care and share. My students were entranced by this book. I could tell it really got them thinking!
I used the book as a tie-in to a writing lesson. Here's how it went:
* Read story to students
* Brainstorm "what Christmas makes me think of" (We wrote our ideas on chart paper. I wrote student names next to their ideas.) Students were asked to make a "mind picture" before giving their idea.
* We practiced writing sentences on mini- white boards, so that we could practice using a capital and period, and where to look for words we don't know.
* I showed students their Christmas gift books for their parents (little books sharing the class's thoughts on Christmas - very cute!) and told them we were going to make the center page. We used a plain sheet of student writing paper for first grade, that went horizontal, to add it to our book. (Picture on top, lines on the bottom).
* Students wrote a page using the sentence starter "Christmas makes me think of_________" and illustrated it.
I was so happy many of my students wrote about things other than presents and Santa Claus! This was a GREAT book to get them focused on caring and sharing during the holiday season.
BOOK 12- Mr. Willowby's Christmas Tree
This is a delightful little book, that kept all of my student's interest to the very last page. Mr. Willowby buys a Christmas tree that is too large for his mansion. He cuts the top off to throw away. Another family takes the top to make their tree, but it is just a bit too large for their home. So, they cut the top off and throw it away. An animal family discovers the top and uses it for their tree, but it is just a tad too big, so they cut the top off and.... you get the picture. This happens over and over throughout the story. The kids loved it!
When we finished, we practiced our verbs with some fun Christmas action cards from one of my favorite blogs..
Oopsey Daisy
. Here is the link to Alison's Google Doc:
Book 13- Santa's Snow Cat
This story largely appealed to my girls and cat lovers. (Every year I have at least one child who ADORES cats - not sure why! But, I do try to cater to my cat lovers and provide some cat stories now and then!) Snow Cat is Santa's favorite cat, who gets lost during Santa's travels one night. She looks everywhere for the real Santa, and finds a lot of fakes. Eventually, Santa finds her. I thought it was a nice one for kids who are doubting, to help them know that not all the Santas they see are real and they don't have to believe that shopping mall santa is real if they don't think he is.
We were going to make these cool snow flakes from Family Fun, but we ran out of time that day! The story alone was enough fun for the kids. Here is a picture I got from qtips.com. They also have directions for the activity
here
. My own children and I will be making these for our "snow day" at home tomorrow!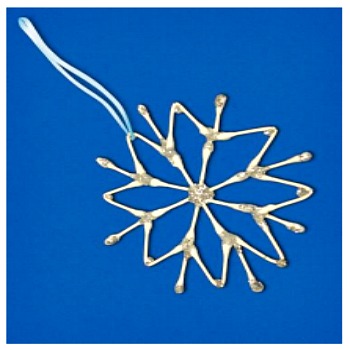 BOOK 14- Rudolph the Red-Nosed Reindeer
We read the classic Rudolph story with this fun shape-book. Afterward, we sang "Rudolph the Red-Nosed Reindeer" and played "reindeer games" for math. We did a fun I Have... Who Has game with place value! Then, I let the students play their math center games, many of which are reindeer and Christmas themed.
BOOK 15- If You Take a Mouse to the Movies
I had a lot of fun activities planned with this story, but there just wasn't time in the schedule! Maybe next year!
I hope you all had happy holidays!